Window Dressing
by Elisabeth Canfield & Bryan McGucken
Based on "Total Eclipse" from Handel's oratorio "Samson"
"Bryan, a blind synesthete, sees colors when he hears music or reads. He does have some usable vision and picked out the fabric appropriate to the first 47 notes of an aria we like. I drew in other details, like rests & print words, and beaded the braille syllables. He tells me that overlapping notes and letters (when he's reading his music) look like the grand finale of a fireworks display."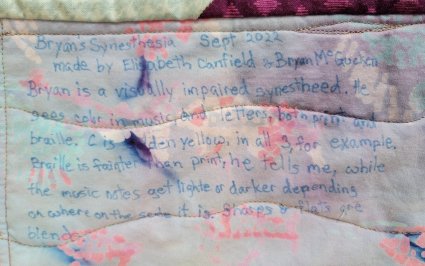 Also, come check out our customer Jill Gosselin's rendition of the Cats in Space pattern by Elizabeth Hartman!