Skip Navigation
Website Accessibility
New Arrivals | Portrait Quilts on Display - Meet the Artist 9/25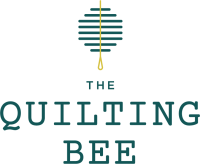 What's buzzin' at The Quilting Bee?
New Arrivals!
We've been busy bees, unpacking loads of new fabrics! Check them out!
| | |
| --- | --- |
| | Kaffe's unique sense of color, drive to create, and desire to encourage others have led to his reputation as a guru in the world of color and textiles. We are happy to announce the arrival of his February 2022 Neptune line in 10" Charms. |
Pop! Fizz! Clink!Soirée collection was inspired by gatherings with our nearest and dearest, sprinkled with sparkle and joy. Available in Fat Quarter Bundles and Mini Charms.

Put on your party hats, folks! We're celebrating everything! From birthdays to proposals, big milestones to small triumphs – they all deserve a little revelry and fun! The
| | |
| --- | --- |
| | Imagine the luxury of having an afternoon just for yourself. You are in your garden, swinging in your hammock, enjoying the sun, doing what you love to do. It's just you, and you have time to stitch or knit a bit. This is the feeling that inspired Lazy Afternoon. A chilled vibe and retro color scheme of mustard, bright red, and light aqua, give this collection a young, fresh look. Pears, playful balls of yarn, and bi-colored knitting needles mix with geometrics and dots to complete the collection. Available in Fat Quarter Bundles and Mini Charms. |
| | |
| --- | --- |
| Touchstones offers a glimpse into some of Shell Rummel's most personal keepsake moments - the feeling of a pebble or seashell in her hand, a pressed ginkgo leaf that she tucked away and saved, or an amazing sunrise/sunset view that reminds her of a meaningful moment in time. | |
| | |
| --- | --- |
| | The latest Scion collection brings its fun-loving personality with Poppy Pop, a playful range of prints in a spectrum of fresh contemporary color. The cheerful blend of Scandi design and Arts & Crafts influences in this uplifting collection is sure to bring a smile to the everyday. Mr. Fox is one of the many characterful designs to make an appearance alongside Barnie Owl and Lintu, which are paired with retro-contemporary geometrics to create Scion's signature style. |
| | |
| --- | --- |
| ABC…xyz was inspired by a challenge - create an animal drawing for each letter of the alphabet. When Stacy finished, she loved the illustrations so much that this ABC… xyz collection was born. There are alphabet and animal themed prints, puzzles, building blocks, and geometric shapes in a Boho-chic color palette that's perfect for children of all ages. | |
Window Dressing: Joanna Ellis
The Quilting Bee's windows are decorated with one-of-a-kind portrait quilts by fiber artist Joanna Ellis. Joanna's quilts have been featured in numerous publications, including the most recent edition of Quilting Arts Magazine. Her creations have been displayed at several quilt shows, including the prestigious Houston International Quilt show. Two of her recent pieces – "Fascination" and "First Bite of Summer" - will be exhibited in Houston this November.
Joanna, a member of the Lakewood High School Class of '67, currently resides in Parma. Her fiber art journey began with needle and bobbin lace, weaving, and spinning. She discovered art quilts after creating her first quilt – a tumbling block pattern – in 2015. Her art quilt subjects include people and animals.
Joanna's quilts will be on display in The Quilting Bee's windows until September 30, 2022
Sunday, September 25, 2022 at 10am
Joanna will discuss her creative process, share some additional art pieces, and answer your questions.
Please consider a donation at the door, which will be given to Turtle Survival Alliance, one of Joanna's favorite charities.
Call 216-712-6579 to reserve a spot – space is limited.
| | |
| --- | --- |
| | |
| | | |
| --- | --- | --- |
| | | |
The parking lot directly behind our building, accessible from both Westwood Avenue and Rosewood Avenue, occasionally has spaces available. You are welcomed to park there during store hours.





Street parking is also available. Some spaces are metered on and near Detroit Avenue. Nighttime and weekend metered parking is free.






Bee Kind,

The Quilting Bee
15709 Detroit Avenue, Lakewood, Ohio 44107
216-712-6579
thequiltingbeeonline.com

Please add hello@thequiltingbeeonline.com to your address book to ensure our messages reach your inbox.