New Arrivals
5 Karat Gems
by Wilmington Prints

Here by popular demand! These 5x5 Packs by Wilmington Prints are an easy way to add some depth to your next project! Save time on cutting, and get a wide variety of blenders and tone on tones.
Spotlight on Panels!
Fabric panels for quilts come in a variety of themes that work perfectly as the centerpiece in stunning wall hangings and quilts. It's easy to add borders and sashing to make quick work of expanding a fabric panel into a larger project.



Shop Panels



Online Deal of the Day
New merchandise continues to arrive,
and we need to make room!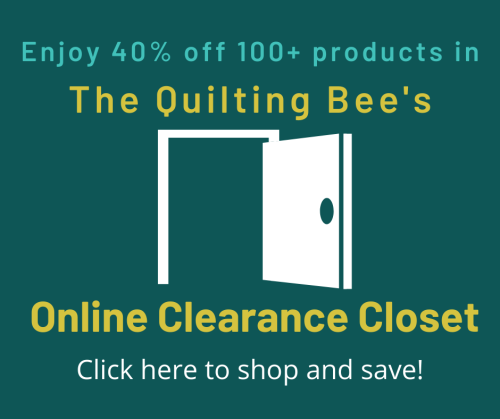 Products are priced to sell in The Quilting Bee's Online Clearance Closet.
Order online, and choose shipping, in-store pickup, or curbside pickup.

The parking lot directly behind our building, accessible from both Westwood Avenue and Rosewood Avenue, occasionally has spaces available. You are welcomed to park there during store hours.





Street parking is also available. Some spaces are metered on and near Detroit Avenue. Nighttime and weekend metered parking is free.






Bee Kind,

The Quilting Bee
15709 Detroit Avenue, Lakewood, Ohio 44107
216-712-6579
thequiltingbeeonline.com

Please add hello@thequiltingbeeonline.com to your address book to ensure our messages reach your inbox.