Online Deal of the Day!
New Arrivals
Sew Cute Baby Animals
by Mary Hertel

Sew 17 paper-pieced baby animal blocks with Mary Hertel! Mix and match blocks into 6 projects for a sweet nursery set, featuring a cozy quilt, baby bib, adjustable diaper bag, and more!
Too Cute To Spook Fat Quarter Bundles
by Me and My Sister Designs

Jolly jack-o-lanterns, friendly bats, and spiderwebs set the scene for a Halloween that is simply Too Cute To Spook! A couple of dot prints, including dots mixed with plaid, and diagonal stripes in black, orange, and white are all you need for creating a Halloween adventure.
Holiday Jewels Pre-Cuts
by Amanda Murphy for Benartex

Add a dose of sparkle to your holiday projects with Amanda Murphy's latest collection - Holiday Jewels! You'll find many familiar elements - stars, scrolls and medallions - all reimagined in a contemporary style. The pink, red, green, and white color palette is fresh and stylish, just perfect for modern holiday decor. Available in Fat Quarter Bundles and 10-inch Packs.
Back in Stock: Oliso Irons!
Oliso Iron Pro
Get 'em while they're hot!

Oliso's iconic SmartIron® just got smarter! The new TG1600Pro Plus still features Oliso's most-loved patented iTouch® technology. Simply touch the handle and the iron lowers, ready to work. Take your hand off and the patented scorch guards lift the iron off the board preventing scorches, burns, and tipping. It's not only safer, but it also saves time as well as your wrists!
Spotlight on Kaffe Fassett
Kaffe's unique sense of color, drive to create, and desire to encourage others have led to his reputation as a guru in the world of color and textiles.

Shop Kaffe Fassett Collective

New merchandise continues to arrive,
and we need to make room!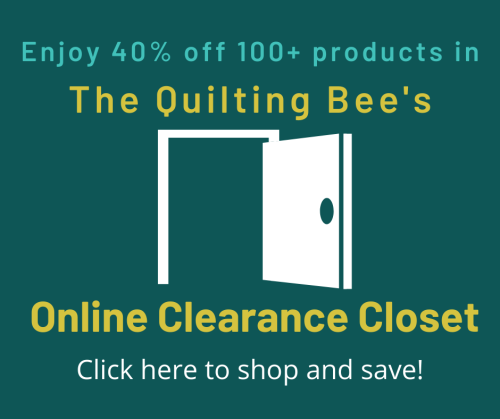 Products are priced to sell in The Quilting Bee's Online Clearance Closet.
Order online, and choose shipping, in-store pickup, or curbside pickup.

The parking lot directly behind our building, accessible from both Westwood Avenue and Rosewood Avenue, occasionally has spaces available. You are welcomed to park there during store hours.





Street parking is also available. Some spaces are metered on and near Detroit Avenue. Nighttime and weekend metered parking is free.






Bee Kind,

The Quilting Bee
15709 Detroit Avenue, Lakewood, Ohio 44107
216-712-6579
thequiltingbeeonline.com

Please add hello@thequiltingbeeonline.com to your address book to ensure our messages reach your inbox.