Skip Navigation
Website Accessibility
Spring Clearance | Creativity Glows | Celestial | Astra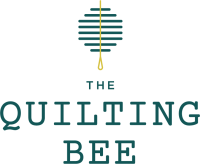 What's buzzin' at The Quilting Bee?
Spring Clearance Sale!
Enjoy 10-30% off regularly priced fabric and quilt kits
now through Sunday, April 24.
In-store, and online at www.thequiltingbeeonline.com


Thank you to Graceanne Koster, a senior in Mrs. McQuay's Media Art and Design class at Lakewood High School, for designing the Spring Clearance Sale graphic!

New Arrivals
Creativity Glows
by Creativity Shell

Turning the light on for youth mental health is the inspiration for the Creativity Shell's new fabric line, Creativity Glows. After spending the past six years teaching sewing and textile arts classes to different children, Creativity Shell is convinced that the poor mental health of our young people is the main hindrance to their growth. The Creativity Shell organization wants sewists to use this collection for all kinds of projects, and most importantly, to make items for children.
Black, gray, and white are very popular colors in modern living spaces, especially when it comes to a minimalist style. Add a soft pink and a trendy mustard for warmth and distinction. Celestial is now available at The Quilting Bee in Charm Packs and Fat Quarter Bundles, and yardage!

Spotlight on Astra!
| | |
| --- | --- |
| | Filled with constellations, satellites, stars, and orbits on shades of blue, grey, taupe, and cream, Astra pays tribute to the great wide unknown above us. |
New merchandise continues to arrive, and we need to make room!


Products are priced to sell in The Quilting Bee's Online Clearance Closet.
Order online, and choose shipping, in-store pickup, or curbside pickup.

The parking lot directly behind our building, accessible from both Westwood Avenue and Rosewood Avenue, occasionally has spaces available. You are welcomed to park there during store hours.





Street parking is also available. Some spaces are metered on and near Detroit Avenue. Nighttime and weekend metered parking is free.






Bee Kind,

The Quilting Bee
15709 Detroit Avenue, Lakewood, Ohio 44107
216-712-6579
thequiltingbeeonline.com

Please add hello@thequiltingbeeonline.com to your address book to ensure our messages reach your inbox.