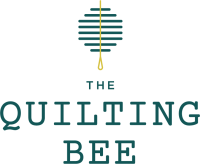 What's buzzin' at The Quilting Bee?
Window Dressing
Thank you to long-time Quilting Bee customer Kathy Lawrence of Lakewood, Ohio, for allowing us to hang this beautiful quilt in our shop window! Kathy, a member of Quilters' Legacy of Lakewood, has been quilting for over 30 years.

The quilt pattern is "Radiance" by Missouri Star Quilt Company. Kathy used a template, and found that it was easier than she thought. She chose pink batiks because she felt they were different and non-traditional.
New Arrivals
The Blank Quilting Corporation
From low volume to high contrast, these ten new bolts from The Blank Quilting Corporation will add visual interest to your project. We've received representative selections from Daisy Talk by Diane K. Knott, as well as Lower the Volume, Morning Mist VI, and Paradox, all the work of Blank Quilting designers.
Spotlight on Valentine's Day
Valentine's Day is 18 days away!
Stock up your stash with cute dots, stripes, XOXOs, and, of course, hearts!

Shop Valentine's Day fabric

Happy Hopping!
The January FabShop Hop
is almost done!
There are just a few days remaining to find the bunnies in the January FabShop Hop! Browse each participating shop's website to find the hidden bunny - it says 'You Found It!', with January dates listed. Click on the bunny, and enter your email for an entry in the FabShop Hop's prize giveaway. Happy hopping!




The parking lot directly behind our building, accessible from both Westwood Avenue and Rosewood Avenue, occasionally has spaces available. You are welcomed to park there during store hours.



Street parking is also available. Some spaces are metered on and near Detroit Avenue. Nighttime and weekend metered parking is free.






Bee Kind,

The Quilting Bee
15709 Detroit Avenue, Lakewood, Ohio 44107
216-712-6579
thequiltingbeeonline.com

Please add hello@thequiltingbeeonline.com to your address book to ensure our messages reach your inbox.