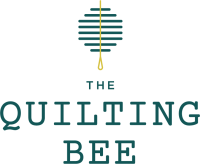 What's buzzin' at The Quilting Bee?
New Arrivals
Numbered Pins is the perfect solution for organizing quilt blocks, rows, and columns when order is important to the design of the quilt. Use these high quality, stainless steel, flat head pins as a simple tool to keep your project organized without disturbing your layout. Simply pin a Numbered Pin in the upper left hand corner of a block, row or column to keep track of specific pieces as you rotate or shift your fabrics.

Ever since their first collection for Moda, Barb and Mary of

Me and My Sister Designs

have loved including brightly colored flowers in their collections. So they went through their prints and collected favorites, mixed them with a fresh, new floral print, and then added all new coordinating prints.

Shop Fat Quarter Bundles and Layer Cakes® here.

And stay tuned - coordinating yardages are coming soon!



Winter Days includes fun new prints from Lisa Glanz. Come and frolic in the snow with Lucy and Ben, and their beloved dog Jack. Reminisce about the carefree Winter Days of building snowmen and sipping hot cocoa.
Spotlight
Warm Winter Wishes
by Holly Taylor

Lynn and Eileen of Holly Taylor captured the beauty of a Minnesota winter in this collection. Wishing you a blessed holiday season, this traditional collection is full of pine needles and lots of other Christmas foliage. In tan, cream, reds, and greens, Warm Winter Wishes is perfect either as a complement to other holiday prints or on its own for some simple seasonal quilts.






30s Reproduction Pre-Cuts

Travel back to simpler times with our selection of sweet 1930s fabric. We have just what you need to make a lovely 1930s reproduction quilt with your favorite vintage fabric in pretty pastel color

s.

Shop Darlene's Favorites
Shop Everything but the Kitchen Sink XV


Shop all 30s Reproductions



Online Clearance Closet
The parking lot directly behind our building, accessible from both Westwood Avenue and Rosewood Avenue, occasionally has spaces available. You are welcomed to park there during store hours.



Street parking is also available. Some spaces are metered on and near Detroit Avenue. Nighttime and weekend metered parking is free.






Bee Kind,

The Quilting Bee
15709 Detroit Avenue, Lakewood, Ohio 44107
216-712-6579
thequiltingbeeonline.com

Please add hello@thequiltingbeeonline.com to your address book to ensure our messages reach your inbox.


're