Skip Navigation
Website Accessibility
Oliso Smart Irons | Ruby Star Society | New Holiday Fat Quarters, and Fall Flannels!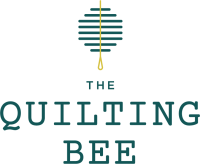 What's buzzin' at The Quilting Bee?
Back in stock: Oliso Pro Zone Smart Irons
The Oliso TG1600 Pro features Oliso's patented iTouch technology. Simply touch the handle and the iron lowers, ready to work. Take your hand off and the patented scorch guards lift the iron off the board preventing scorches, burns, and tipping. Available at The Quilting Bee in pink and yellow. Get 'em while they're hot!
Shop Irons and Ironing Accessories

New Arrivals
Food Group,
a Collaborative Collection
by Ruby Star Society


Inspired by a trip to the farmer's market, Food Group is a collaborative collection filled with irresistible food and kitchen themed prints. Watermelon slices, eggs, assorted meats and cheeses, & fruits and veggies are complemented by playful text and diagonal gingham supporting prints. Don't forget the bouquet of fresh flowers for the kitchen counter!


Imagine a sweet town where life moves at a slower pace, where inhabitants putter around their gardens and visit each other on the porch, and friends play parlor games and dawdle on their way home. That's what Kimberly Kight of Ruby Star Society envisioned with

Tarry Town

. Cute turtles, little cottages, teeny flowers, and more are all part of this idyllic fabric town.





Hustle and Bustle
by BasicGrey

A whimsical floral starts the holiday festivities, while adorable trees and delightful berries add joy. Twinkling polka dots, a lacy grid, and BasicGrey's classic Grunge wrap up this nostalgic collection.
Shop Hustle and Bustle


Fall Fantasy Flannels
by Holly Taylor

Paisleys, leaves, fall colors, Moda's soft 100% cotton flannel...the ingredients for a cozy Fall quilt.


Shop Fall Fantasy Flannels

Online Clearance Closet
The parking lot directly behind our building, accessible from both Westwood Avenue and Rosewood Avenue, occasionally has spaces available. You are welcomed to park there during store hours.



Street parking is also available. Some spaces are metered on and near Detroit Avenue. Nighttime and weekend metered parking is free.






Bee Kind,

The Quilting Bee
15709 Detroit Avenue, Lakewood, Ohio 44107
216-712-6579
thequiltingbeeonline.com

Please add hello@thequiltingbeeonline.com to your address book to ensure our messages reach your inbox.


're