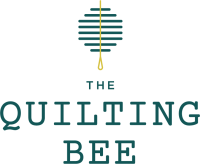 What's buzzin' at The Quilting Bee?
New Arrivals
The artwork for

Make Time

was inspired directly from Aneela's love of textiles, and of making. There are straight pins, cute scissors, and simple motifs drawn from the domestic arts. The palette is soft, warm, and pretty, but still classic. There is plenty here to inspire you to

Make Time

for yourself.

Shop Make Time
Charm Packs and Layer Cakes®


Snow Bear Village
by Desiree Designs


Beloved and adorable snow bears are at home in icy blues, black, and white, evoking a wintry mix of whimsical design and rich color. Dots, stripes, and snowflakes coordinate to transport you to a winter wonderland.

Shop Snow Bear Village

Spotlight: Quilt Kits



In a quilt kit, all of the fabrics are already chosen for you, and you can be sure that they will all work well together. Fabrics selected for a kit can help you learn how to put various colors and patterns together effectively.

Shop Quilt Kits

Online Clearance Closet
The parking lot directly behind our building, accessible from both Westwood Avenue and Rosewood Avenue, occasionally has spaces available. You are welcomed to park there during store hours.



Street parking is also available. Some spaces are metered on and near Detroit Avenue. Nighttime and weekend metered parking is free.






Bee Kind,

The Quilting Bee
15709 Detroit Avenue, Lakewood, Ohio 44107
216-712-6579
thequiltingbeeonline.com

Please add hello@thequiltingbeeonline.com to your address book to ensure our messages reach your inbox.


're