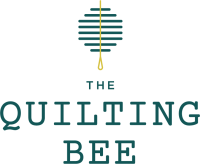 What's buzzin' at The Quilting Bee?
Last call for Block of the Month!
The Quilting Bee is excited to offer a Block of the Month subscription, Graphic Jam by Sassafras Lane Designs, beginning September 1, 2021. Graphic Jam features 12 unique and modern plus-shaped quilt blocks. Each month you will create an entirely unique paper-pieced block. With this subscription, you will complete a 70" x 82" quilt top.


Included in the cost of the 12-month subscription:

pattern book

Add-A-Quarter Plus ruler

ready-to-sew paper-piecing patterns - no copying required!

all the fabric needed for the quilt top

Delivery options:

A few spots remain!


Click here to learn more and to register.





Save 15% on your subscription when you pay for all twelve months upfront!
To take advantage of these savings, call 216-712-6579. (Do not use online ordering for this offer.)
New Arrivals
Cozy Up invites you to "cozy up" with your favorite book and a beautiful quilt. This collection reflects the colors of the changing season with rich yellows, oranges, greens, grays, and teal. The prints pay homage to Autumn with leaves, acorns, and fall flowers.

Shop Cozy Up Charm Packs and Fat Quarter Bundles


Jungle Paradise by Stacy Iest Hsu


When Stacy Iest Hsu designed Jungle Paradise she wasn't imagining eluding a pandemic. "But it really does feel like an escape," she says of the line inspired by her honeymoon trip 17 years ago to Belize and Guatemala. "The colors make me so happy!" Shop these cute and vibrant fabrics in Jelly Rolls and Layer Cakes. And stay tuned - coordinating fabrics are coming soon!




Snowed In Trendy Table Runner Kit by Heather Peterson


Come back inside and get warm, the snow is really falling now! The cool combination of glacier and teal colors set the scene of a blustery, wintry day with snowmen, holly, and poinsettias all around. Look at the red, white, and green plaid, polka dots, and striped Christmas trimming while the snowflakes fall outside.


Quilt kit includes Snowman Table Runner pattern and Snowed In fabric for the 24" x 30" quilt top and binding. Backing and batting not included.

Shop Snowed In Trendy Table Runner Kit


We just received more super soft flannels in solids, speckles, and plaids - perfect for quilt backings, pajamas, scarves, and more!

Shop Flannels

Online Clearance Closet
The parking lot directly behind our building, accessible from both Westwood Avenue and Rosewood Avenue, occasionally has spaces available. You are welcomed to park there during store hours.



Street parking is also available. Some spaces are metered on and near Detroit Avenue. Nighttime and weekend metered parking is free.






Bee Kind,

The Quilting Bee
15709 Detroit Avenue, Lakewood, Ohio 44107
216-712-6579
thequiltingbeeonline.com

Please add hello@thequiltingbeeonline.com to your address book to ensure our messages reach your inbox.


're