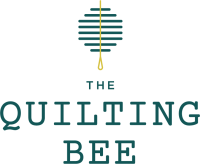 What's buzzin' at The Quilting Bee?
Online Clearance Closet
New Arrivals
It is the frost on the fields, a simple wreath made of evergreen, hung on the white washed barn doors...a holiday filled with homemade gift giving, handmade wrapping paper, and twine for bows. It is the feeling you get from being home for the holidays with those that you love. That alone, is enough of a gift. This small collection was created with all of that in mind. Just the basics, just enough - cozy, comfortable, simple.

Shop Merry & Mod fat quarter bundles

Click here to check out coordinating fabrics



Shop Breaking News fat quarter bundles



Click here to check out coordinating fabrics





Breaking News by Janine Vangool


Janine has returned to her roots as a graphic designer and combined her love of letters with the editorial voice that she has developed over the past years for UPPERCASE magazine. She has created this collection inspired by the desire to express herself through art, craft, headlines, advertising, media, and creative manifestos. This collection turns media into positive messages and encouraging words of positive action and self-care.


Retro Halloween by Dan DiPaolo

Enjoy Halloween through the lens of the past with Retro Halloween by Dan DiPaolo. This bewitching assortment includes a vintage approach to all your favorite Halloween elements; black cats, orange jack-o-lanterns, bats and witches on grays and browns.

Shop Retro Halloween 5" squares

Click here to check out coordinating fabrics


Little Ducklings by Paper and Cloth


Charming. Imaginative. Whimsical. Deftly mixing soft, soothing colors with original artwork, Little Ducklings is the new palette for creating quilts and accessories with a modern feel. Little ducklings tended by their mamas mix with floral bouquets and foliage sprigs; there are duck walks and moon prints, all in warm shades of white, gray, blue, and mustard.

Shop Little Ducklings

Block of the Month - register now!
The Quilting Bee is excited to offer a Block of the Month subscription, Graphic Jam by Sassafras Lane Designs, beginning September 1, 2021. Graphic Jam features 12 unique and modern plus-shaped quilt blocks. Each month you will create an entirely unique paper-pieced block. With this subscription, you will complete a 70" x 82" quilt top.


Included in the cost of the 12-month subscription:

pattern book

Add-A-Quarter Plus ruler

ready-to-sew paper-piecing patterns - no copying required!

all the fabric needed for the quilt top

Delivery options:

Space is limited!


Click here to learn more and to register.





Save 15% on your subscription when you pay for all twelve months upfront!
To take advantage of these savings, call 216-712-6579. (Do not use online ordering for this offer.)
The parking lot directly behind our building, accessible from both Westwood Avenue and Rosewood Avenue, occasionally has spaces available. You are welcomed to park there during store hours.



Street parking is also available. Some spaces are metered on and near Detroit Avenue. Nighttime and weekend metered parking is free.






Bee Kind,

The Quilting Bee
15709 Detroit Avenue, Lakewood, Ohio 44107
216-712-6579
thequiltingbeeonline.com

Please add hello@thequiltingbeeonline.com to your address book to ensure our messages reach your inbox.


're