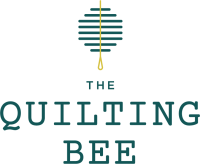 What's buzzin' at The Quilting Bee?
Free Shipping Friday!
New Arrival: Low Volume Lollies
Low Volume Lollies
by Jen Kingwell

Lollies have eight prints in a single width of fabric, and The Quilting Bee has five new tempting Lollies in stock. These black, grey, and ivory tones play beautifully on their own, or they will compliment anything you care to mix them with. As their designer, Jen Kingwell, says, "They make scrappy easy."

Shop all Lollies

Block of the Month - register now!
The Quilting Bee is excited to offer a Block of the Month subscription, Graphic Jam by Sassafras Lane Designs, beginning September 1, 2021. Graphic Jam features 12 unique and modern plus-shaped quilt blocks. Each month you will create an entirely unique paper-pieced block. With this subscription, you will complete a 70" x 82" quilt top.


Included in the cost of the 12-month subscription:

pattern book

Add-A-Quarter Plus ruler

ready-to-sew paper-piecing patterns - no copying required!

all the fabric needed for the quilt top

Delivery options:

Space is limited!


Click here to learn more and to register.





Save 15% on your subscription when you pay for all twelve months upfront!
To take advantage of these savings, call 216-712-6579. (Do not use online ordering for this offer.)
The parking lot directly behind our building, accessible from both Westwood Avenue and Rosewood Avenue, occasionally has spaces available. You are welcomed to park there during store hours.



Street parking is also available. Some spaces are metered on and near Detroit Avenue. Nighttime and weekend metered parking is free.






Bee Kind,

The Quilting Bee
15709 Detroit Avenue, Lakewood, Ohio 44107
216-712-6579
thequiltingbeeonline.com

Please add hello@thequiltingbeeonline.com to your address book to ensure our messages reach your inbox.


're