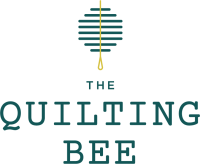 What's buzzin' at The Quilting Bee?
New Arrivals
Robin Pickens has added new colors to the Thatched family, several of which are brand new colors and some that are brought back from earlier collections. The names of warm and earthy shades evoke a spicy meal with Masala Spice, Smoked Paprika, Green Curry, Olive, and a little sweet with Honeycomb. Crisp blues have purple mixed in to make a lovely garden with Dutch Iris, Periwinkle, Bluebell, and Forget Me Not.

Shop Thatched
Stacie Bloomfield of Gingiber created Words to Live By to help the quilting community focus on positivity during uncertain times. The panel (44" x 44") features artwork to encourage and uplift, and the colors and patterns of the supporting fabrics (20 fat quarters) inspire joy.

Shop Words to Live By fat quarter bundles


Mark your calendar!

The 44th Annual Lakewood Arts Festival will be held on Saturday, August 7, from 10am until 6pm. The festival, held on Detroit Avenue between Belle and Arthur Avenues, hosts over 130 regional and national artists, and features musical performances and a food truck court.

The Quilting Bee will have extended hours during the festival: 10am - 6pm.

Learn more

The parking lot directly behind our building, accessible from both Westwood Avenue and Rosewood Avenue, occasionally has spaces available. You are welcomed to park there during store hours.



Street parking is also available. Some spaces are metered on and near Detroit Avenue. Nighttime and weekend metered parking is free.






Bee Kind,

The Quilting Bee
15709 Detroit Avenue, Lakewood, Ohio 44107
216-712-6579
thequiltingbeeonline.com

Please add hello@thequiltingbeeonline.com to your address book to ensure our messages reach your inbox.