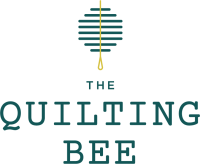 What's buzzin' at The Quilting Bee?
New Arrivals
Cotton candy trees, watercolor clouds, and blossoms that look a bit like gumballs. This is MoMo's delightful vision of a fantasy forest. Soar above the treetops, or wander through an orchard, the hand-painted prints are a mix of detail and soft shapes. Just as the colors in a real forest change depending on the light, this forest changes from light to dark, cool to warm, and muted to bright. Available at The Quilting Bee in Layer Cakes® and Fat Quarter Bundles.
Shop Fanciful Forest

Susan Winget's Nose to Nose collection features snowmen & friendly woodland animals interacting in a scenic winter wonderland - maybe the deer are just after those carrot noses! Available at The Quilting Bee in 5x5 Squares.
Shop Nose to Nose

Tochi means earth or land in Japanese, and it truly is a beautiful land. Outside of the busy cities, there are mountainsides with terraced rows of tea bushes, fields of indigo, and gorgeous bamboo forests. Surrounding each of the islands that make up Japan are the Pacific Ocean, the Sea of Japan, and the East China Sea. Debbie was remembering Japan when she was creating this new kit, featuring the Geese of the Lillies pattern and the Tochi collection from Moda.
Shop Tochi Kit

An Intermediate-level collage quilt pattern containing 9 dog faces:

Chihuahua, Dachshund, Hound, Westie, King Charles Cavalier Spaniel, Pug, Lab, French Bulldog, & Cairn Terrier. Finished quilt measures 36" x 36". Head sizes range from 7" - 9". This pattern is a perfect use for your scraps!
Shop Pop Art Pups Pattern
The parking lot directly behind our building, accessible from both Westwood Avenue and Rosewood Avenue, occasionally has spaces available. You are welcomed to park there during store hours.



Street parking is also available. Some spaces are metered on and near Detroit Avenue. Nighttime and weekend metered parking is free.






Bee Kind,

The Quilting Bee
15709 Detroit Avenue, Lakewood, Ohio 44107
216-712-6579
thequiltingbeeonline.com

Please add hello@thequiltingbeeonline.com to your address book to ensure our messages reach your inbox.