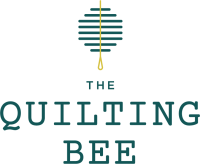 What's buzzin' at The Quilting Bee?
New Arrivals
Pumpkins and Blossoms




by Fig Tree & Co.




Pumpkins and Blossoms

is designer

Joanna Figueroa's

vision of a perfect autumn day, walking through a "not quite ready yet" field of pumpkins. In her mind's eye, the pumpkins mix with bright green leaves and light green tendrils. The pumpkin blossoms vine their way up trellises, a bit like they do in Jack and the Beanstalk. It's a fairytale made real with a mix of cream, orange, green and gray…her most magical pumpkin afternoon!

Shop Pumpkins and Blossoms collection
Spotlight: Halloween!
Kitty Corn by Urban Chiks

Black cats and spiders, a full moon and a pumpkin. Add a retro-inspired color palette with funky florals, candy corn, cool polka dots and plaids, and it's Halloween with the Urban Chiks.⠀

Tiny Treaters by Jill Howarth



When given an opportunity to design a line for Halloween, designer Jill Howarth tried to imagine how animals would celebrate. Flying tiny mouse witches, Frankenstein's monster bears, bunny cowboys, mummy dachshunds were fun to think about being out trick or treating! Retro candy, starry Milky Way skies, skeletons, and more round out the collection.
The parking lot directly behind our building, accessible from both Westwood Avenue and Rosewood Avenue, occasionally has spaces available. You are welcomed to park there during store hours.



Street parking is also available. Some spaces are metered on and near Detroit Avenue. Nighttime and weekend metered parking is free.






Bee Kind,

The Quilting Bee
15709 Detroit Avenue, Lakewood, Ohio 44107
216-712-6579
thequiltingbeeonline.com

Please add hello@thequiltingbeeonline.com to your address book to ensure our messages reach your inbox.