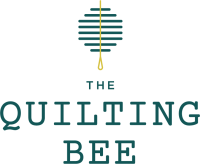 What's buzzin' at The Quilting Bee?
New Arrivals

Cottage Bleu by Robin Pickens
Cool blues, soft seafoam, and minty greens give the mindset for relaxation, calm, and serenity after a full day. In the Cottage Bleu collection, Robin was thinking of the things that make her space feel special and serene. She was drawn to the calming feeling of blues, from the light shades of sky to the deep navy night, mixed with big blue blooms. Emerging buds come with soft greens and deep emerald leaves. The hydrangeas, joined with fluttering butterflies, celebrate those blues, greens, and citrusy yellows with creamy whites. We hope you find calm, serenity, and beauty in this collection and can escape for a visit to Cottage Bleu.


Cottage Bleu Wind Drifter
Quilt Kit
includes all the fabric you need for this 65" x 65" quilt top and binding, featuring the Cottage Bleu collection, as well as the Wind Drifter pattern, both by Robin Pickens. The kit also includes one 50ft roll of

Triangles on a Roll 3in Half Square from It's Sew Emma.

Pattern includes two sizes of quilts: large (65" x 65"), and small (32.75" x 32.75").





Zoe the Giraffe Play Mat Panel

by Susybee



Get to know Zoe the Giraffe on this colorful panel and playful coordinating fabric! The 36in x 42in panel features giraffes peeking out from green tree tops, with happy fuzzy bees buzzing in to say hello.
Shop Zoe the Giraffe
Shop all Susybee







Bee Kind,

The Quilting Bee
15709 Detroit Avenue, Lakewood, Ohio 44107
216-712-6579
thequiltingbeeonline.com

Please add hello@thequiltingbeeonline.com to your address book to ensure our messages reach your inbox.