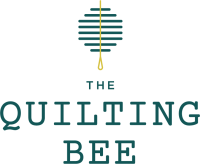 What's buzzin' at The Quilting Bee?
Window Dressing
This beautiful quilt was sewn by Ellen Howard of Euclid, Ohio, and is a gift for her sister-in-law. At a quilt show in February of 2020, Ellen started collecting fabrics in her sister-in-law's colors. The pattern she selected was a simplified version of "Stars with Flare" from Quick Quilts from Your Scrap Bag (though, to quote Ellen, this was "not quick"!). As each star was formed, its personality emerged. Some are serious, some are bright, some are awkward, and some are balanced. Like people, some dominate while others fade into the background, yet they remain connected into a whole functional unit. The swirling pattern in the quilting is reminiscent of Vincent van Gogh's painting The Starry Night, appropriately on a field of stars!
New Arrivals

Aerial by Tamara Kate
Appreciating the little things... Sunlight, little colorful winged creatures, petals and leaves floating on the wind... Simple things that delight! With hand drawn and watercolor painted elements, Aerial is an enchanting collection that is teeming with vibrancy and life.

Shop Aerial fat quarter bundles





Cora by Tessie Fay
Connecting to the women who came before, the Cora collection is inspired by three generations. Named after Tessie's daughter and her great grandmother, both named Cora, this sweet and simple collection reminds us to slow down and enjoy the beauty that surrounds us. Cora prompts us to pull out the fancy dishes and enjoy the little things, as we fill our homes with laughter and love.

Shop Cora fat quarter bundles


Spotlight: Patriotic


Our grouping of patriotic and Americana fabrics includes selections from the Star & Stripe Gatherings, Land That I Love, Pride & Honor, Land of Liberty, and American Gathering collections.

Shop Patriotic theme







Bee Kind,

The Quilting Bee
15709 Detroit Avenue, Lakewood, Ohio 44107
216-712-6579
thequiltingbeeonline.com

Please add hello@thequiltingbeeonline.com to your address book to ensure our messages reach your inbox.