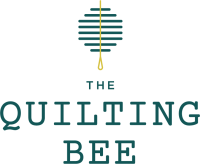 What's buzzin' at The Quilting Bee?
New Arrivals
Sew Kind of Wonderful Patterns and Rulers


Rapture Blenders and Speckles from QT Fabrics

Speckles




QT Fabrics' newest fabrics are dazzling with variegated Speckles! Available in Orange, Orchid, and Light Blue, these will be your go-to for a not-so-basic blender fabric!





Rapture Blender


Add extra dimension and depth to any project with QT Fabrics' tonal texture, now available at The Quilting Bee in Taupe, Lilac, and Chambray.

Spotlight: Charm Packs®
Charm Packs®, or 5x5 Packs, are bundles of 5" squares of precut fabric (typically around 42 pieces) featuring an array of coordinating fabric from a designer's collection. The curating and cutting has been done, leaving time for fun and creativity!


Shop Charm Packs®




Charm Pack® friendly patterns


Charm School book

Artisan Boards by Designer Boards 4U
The Quilting Bee is proud to feature artisan boards crafted by Paul Charles of Designer Boards 4U. Paul creates beautiful, high-quality designer boards by carefully matching

color, texture and grain to produce distinctive pieces that are both functional and unique. The wood is sustainably sourced from sawmills that only take trees that need to come down. Nature dictates the design, and the result is a one-of-a-kind heirloom-quality piece of art.

Stop in to see Paul's handiwork, and enjoy 20% off your purchase of Designer Boards 4U products!






Bee Kind,

The Quilting Bee
15709 Detroit Avenue, Lakewood, Ohio 44107
216-712-6579
thequiltingbeeonline.com

Please add hello@thequiltingbeeonline.com to your address book to ensure our messages reach your inbox.