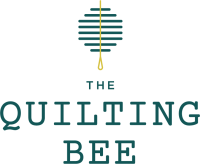 What's buzzin' at The Quilting Bee?
New Arrivals
Strawberry Honey




by Gracey Larson



Strawberry Honey tells the story of a summer morning in the wild strawberry patch, inspired by a children's book from Larson's mother's childhood. It's a happy, perfect day full of activity, sunshine, and fun! The colors featured in the collection include a golden honey, grassy spring green, sky aqua, clean cotton white, and picnic red.










BACK IN STOCK!

Painted Ladies
by Anneliese Johnson

The Painted Ladies are those riotously colorful Victorian houses set in the hills of San Francisco. The iconic neighborhood is the inspiration for these gingerbread-trimmed houses on a hill.
Finished size: 60" x 72"






Bee Kind,

The Quilting Bee
15709 Detroit Avenue, Lakewood, Ohio 44107
216-712-6579
thequiltingbeeonline.com

Please add hello@thequiltingbeeonline.com to your address book to ensure our messages reach your inbox.