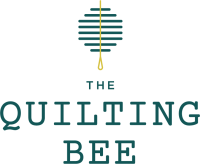 What's buzzin' at The Quilting Bee?
New Arrivals
Dreamscapes by Ira Kennedy

The visual impact created by dots, combined with the vivid colors of red, green, blue, and orange, are a stunning combination on these large-scale prints.

Dreamscapes

is guaranteed to bring excitement and joy to any quilting project.



Shop

Dreamscapes









Painted Ladies

Named for the famous neighborhood in San Francisco, the Painted Ladies houses are set on the hill with a touch of appliqued gingerbread trim. The Painted Ladies pattern works well for fat eighths--it's not written for fat eighths, just a happy accident. Pick your favorite background, and you're ready to build your own neighborhood of Painted Ladies!

Shop Painted Ladies pattern

Crescent

The Crescent pattern is designed to showcase your favorite fabrics and large scale prints. It is perfect for the advanced beginner who is ready to tackle curves for the first time, and for anyone who wants a quick make.

Shop Crescent pattern

Spotlight: STEM Squad


Stem Squad by Edward Miller
The subject of these selections from Edward Miller's Stem Squad collection is STEM, an acronym for Science, Technology, Engineering, and Math, a school curriculum intended to motivate and inspire students to excel in these fields. The inspiration for these fabrics come from this learning initiative and Edward's own interest in these subjects. These fabrics are perfect for any budding scientist, engineer, mathematician, and computer wiz.

Shop Stem Squad







Bee Kind,

The Quilting Bee
15709 Detroit Avenue, Lakewood, Ohio 44107
216-712-6579
thequiltingbeeonline.com

Please add hello@thequiltingbeeonline.com to your address book to ensure our messages reach your inbox.