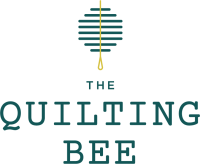 What's buzzin' at The Quilting Bee?
Spotlight on Pre-cuts
Pen Pal
There's nothing quite like sending and receiving letters from friends and loved ones. The main print in this Anne Bollman collection is a montage of all things letters, including pens, inkwells, stationary, and lipstick kisses. A damask design, hearts, birds, and love text complete this sentimental charm pack!
Sunday Afternoon
Enjoy a fine Sunday afternoon outdoors among the flowers and potted plants. This charm pack by Jim Ishikawa is sure to brighten your home with its uplifting colors and prints!
New Arrival
Add Some Sparkle to Your Tools
Designed for precise cuts on quilting projects, the 45mm blade by Fiskars is ideal for crisp, controlled cute on a variety of materials. Additionally, the Berry Sparkle handle adds a touch of flair to match your personal style. The symmetrical design provides comfortable use and control for right- or left-handed users, and a sliding button extends a blade guard for safety when not in use.
Sweet Treats
Vanessa Goertzen's book Jelly Filled allows you to open up a sweet new range of possibilities with pre-cut strips! Sew eighteen jelly-rific quilts made with 2.5" pre-cut fabric strips. Start with basic quilt blocks, and build your skills to piece triangles, hexagons, curves, and more! Let Vanessa help you stir up a bowl of quilt love and "bake" it on your sewing machine!

Shop 2.5" strips

Always the Right Size









Bee kind,

The Quilting Bee
15709 Detroit Avenue, Lakewood, Ohio 44107
216-712-6579
thequiltingbeeonline.com

Please add hello@thequiltingbeeonline.com to your address book to ensure our messages reach your inbox.