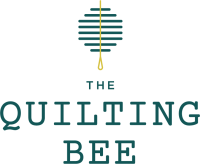 What's buzzin' at The Quilting Bee?
New Arrivals

GEOMETRY by Janet Clare




This stunning new collection from Moda features Janet Clare's signature indigo shades, with pops of green and cream - and the colors are named after mathematicians! Her pattern, "Meander," showcases the fabrics beautifully.
Quilt Gallery

Paper pieced quilt by Kathy O'Toole, Lakewood, Ohio


Kathy O'Toole has been quilting for about twenty years, and started this particular quilt about eighteen months ago. She loved the design of this paper piecing quilt and was about halfway done with the quilt when she put it away. When The Quilting Bee opened in November, the fire inside Kathy was reignited, and she finished the quilt with excitement as soon as she could. The beauty of the quilt is what stands out to her. Lynn, who quilted the piece, included insanely intricate details in the quilting, imagining who would live where and giving life to the neighborhood, including Kathy's favorite panel, the blue house in the top right corner. Every time you look at the quilt, you notice something different! With the trees, flowers, and the ABCs in the schoolhouse, Lynn gave character to each panel. Kathy said that the finished product came out better than she could ever imagine. She's proud to be the owner of the quilt, and we are proud to have displayed it in our shop window!
#ResponsibleRestartOhio

ONLINE SALES FOR CURBSIDE PICKUP & SHIPPING
visit www.thequiltingbeeonline.com

IN-STORE BY APPOINTMENT
To schedule, call 216-712-6579
or email buzz@thequiltingbeeonline.com
Masks are required for staff and customers.

We look forward to serving you.
Please stay healthy and safe. Bee well!

Always the right size
A gift card from The Quilting Bee is certain to create a buzz!

Available in-store and online






Bee Kind,

The Quilting Bee
15709 Detroit Avenue, Lakewood, Ohio 44107
216-712-6579
thequiltingbeeonline.com