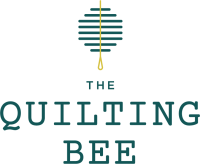 What's buzzin' at The Quilting Bee?
New Class!
T-Shirt Quilt: You Can Do It!
Sunday, March 8, 1pm - 3:30pm
- OR -
Saturday, March 28, 1pm - 3:30pm
Skill Level: beginner

Just in time for graduation season!
You will learn the tricks and techniques to assemble a 4' x 4', edge to edge quilt top from your favorite t-shirts.

$30 class fee includes 12.5" square ruler, interfacing, and instruction.

Click here for more details and to register.

New Arrivals
Let's talk about how cute The Mighty Travel Iron is. It is 6" long x 4" wide, great for precision in pressing piecework, and kind to fingertips when opening up seams.
Its big cousin, The Oliso Smart Iron, automatically lifts and lowers with your touch, helping to prevent scorches, burns, tips, and leaks.

Open Sews
Wednesdays, 5pm - 8pm
and
Thursdays, 12pm - 3pm

Enjoy the company of other quilters.
Bring your machine and project - or hand project.
We'll provide refreshments, plus 10% off storewide.

For the sake of planning, RSVP requested, but not required.
Call 216-712-6579, or email opensew@thequiltingbeeonline.com.

Keep an eye on the Class & Events calendar
and our Facebook page for schedule changes.
Quilt Gallery
Do you have a quilt photo that you would like to share with our community? Send it to gallery@thequiltingbeeonline.com, along with a brief description of its story. We'd love to share it on our website, and it might even be featured in our newsletter!
Always the right size
A gift card from The Quilting Bee is certain to create a buzz!

Available in-store and online
See you at The Quilting Bee!





Bee Kind,

The Quilting Bee
15709 Detroit Avenue, Lakewood, Ohio 44107
216-712-6579
thequiltingbeeonline.com