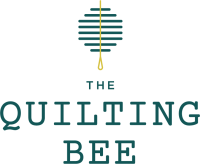 What's buzzin' at The Quilting Bee?
Window Dressing


The vibrant quilt displayed in our shop window was pieced and quilted by Sharon Quinn of Lakewood, Ohio. Sharon and her husband Bob have become regular customers at The Quilting Bee. Thank you to Sharon for graciously allowing us to display her quilt. Our photos do not do Sharon's precise work, or the bright colors she chose, justice - come by and see it for yourself!

Open Sew
Wednesdays, 5:00pm - 8:00pm
and
Thursdays, 12:00pm - 3:00pm

Enjoy the company of other quilters.
Bring your machine and project - or hand project.
We'll provide refreshments, plus 10% off notions.

For the sake of planning, RSVP appreciated, but not required.
Call 216-712-6579, or email opensew@thequiltingbeeonline.com.

Keep an eye on the Class & Events calendar
and our Facebook page for schedule changes.
Upcoming Class Schedule
Confetti Quilt


Friday, February 7, 11am - 1:30pm
Skill level: beginner
$50 class fee includes pattern, background fabric, and instruction
This Confetti quilt is a visually striking quilt that will make a big dent in your scrap collection. The finished size of the quilt is 60" x 60".
While this quilt is a good "stash-buster," fat quarters are a good alternative.
For details and to register, click here.

Where to park when visiting
The Quilting Bee
There are a variety of parking options in our neighborhood.

The parking lot directly behind our building, accessible from both Westwood Avenue and Rosewood Avenue, occasionally has spaces available. You are welcomed to park there during store hours.

The municipal lot on the east side of Westwood Avenue, behind Lindey's Lake House, and Nature's Oasis, has metered spaces.

Street parking is also available. Some spaces are metered on and near Detroit Avenue.

Parking meters are currently enforced from 8am to 6pm weekdays.
Nighttime and weekend parking is free.

Always the right size
A gift card from The Quilting Bee is certain to create a buzz!

Available in-store and online
See you at The Quilting Bee!





Bee Kind,

The Quilting Bee
15709 Detroit Avenue, Lakewood, Ohio 44107
216-712-6579
thequiltingbeeonline.com