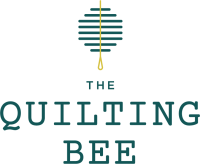 What's buzzin' at The Quilting Bee?
Open Sew
Wednesdays, 5:00pm - 8:00pm
and
Starting January 30: AFTERNOON SESSIONS!
Thursdays, 12:00pm - 3:00pm

Enjoy the company of other quilters.
Bring your machine and project - or hand project.
We'll provide refreshments, plus 10% off notions.

For the sake of planning, RSVP requested, but not required.
Call 216-712-6579, or email opensew@thequiltingbeeonline.com.

Keep an eye on the Class & Events calendar
and our Facebook page for schedule changes.
Upcoming Class Schedule

Crazy Hearts Table Runner
One seat remains!


Wednesday, January 29, 12:30pm - 3:30pm
Skill level: intermediate
$60 class fee includes pattern, all fabrics, Spider Web ruler, batting, and instruction
For details and to register, click here.

Confetti Quilt


Friday, February 7, 11am - 1:30pm
Skill level: beginner
$50 class fee includes pattern, background fabric, and instruction
This Confetti quilt is a visually striking quilt that will make a big dent in your scrap collection. The finished size of the quilt is 60" x 60".
For details and to register, click here.

Longarm Quilting Services


A variety of motifs are available, and our experienced staff will work with you to select the design that is right for your quilt.

Pricing averages 2.5¢ per square inch and varies based on quilting design and intricacy.

Customers may provide backing and batting, or may purchase both from The Quilting Bee. If you are providing backing and batting, please ensure both are at least 6" larger than your quilt top on all four sides.

Binding services are available for an additional charge.

Please call 216-712-6579,
or email longarmservices@thequiltingbeeonline.com to discuss.
Always the right size
A gift card from The Quilting Bee is certain to create a buzz!

Available in-store and online
See you at The Quilting Bee!





Bee Kind,

The Quilting Bee
15709 Detroit Avenue, Lakewood, Ohio 44107
216-712-6579
thequiltingbeeonline.com