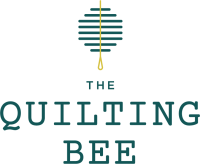 What's buzzin' at The Quilting Bee?
New Class

!
Crazy Hearts Table Runner Class

Saturday, January 25, 1pm - 4pm
- OR -
Wednesday, January 29, 12:30pm - 3:30pm

During this intermediate level class you will create Karla Alexander's Crazy Hearts table runner, using the Spider Web Quilt Ruler from Creative Grids (included in the cost of the class).

$60 class fee includes pattern, all fabrics, Spider Web ruler, batting, and instruction.

Click here for more details and to register.

Open Sews
Wednesdays, January 15, 22 & 29
5pm - 8pm

Enjoy the company of other quilters.
Bring your machine and project - or hand project.
We'll provide refreshments, plus 10% off notions.

For the sake of planning, RSVP requested, but not required.
Call 216-712-6579, or email hello@thequiltingbeeonline.com.
Did you know...
...that The Quilting Bee offers memory quilt services?

Memory quilts, or t-shirt quilts, are a popular way to keep the memories while cleaning out drawers and closets.
The base price is $125, and $10 per shirt side/block (12" square). This pricing includes backing, batting, and binding, as well as standard horizontal quilting.

Borders and custom quilting are available for an additional charge.
Please call 216-712-6579,
or email

memoryquilts@thequiltingbeeonline.com

to discuss.

New Arrivals
Floret Geometric
from RJR
Available in yardage, fat quarter bundles, and 2.5" strips
Flour Garden
from Moda
Available in layer cake and jelly roll
Always the right size
A gift card from The Quilting Bee is certain to create a buzz!

Available in-store and online
See you at The Quilting Bee!





Bee Kind,

The Quilting Bee
15709 Detroit Avenue, Lakewood, Ohio 44107
216-712-6579
thequiltingbeeonline.com